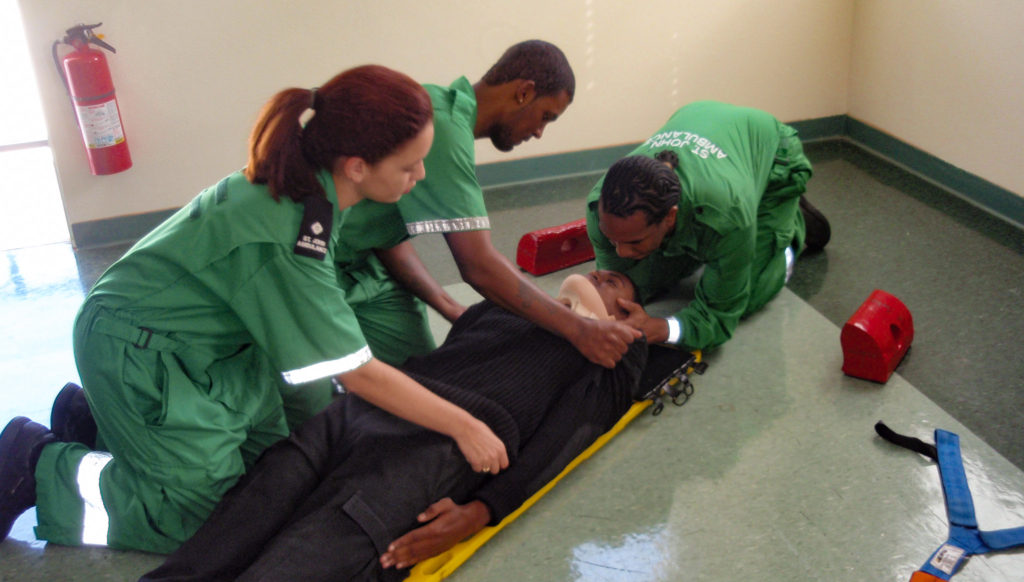 With five specialized CPR courses and several options for combinations of the above, we have the program for you.
St. John is dedicated to teaching quality First Aid and CPR programs to the community, as your training motto states:
"We Teach Life Saving Skills"
Our instructors are internationally certified and recognized by St. John Ambulance Canada.
St. John Ambulance training department provides specific and relevant courses of instruction for all members of society by offering standard as well as specialty courses.
All of our community courses are scheduled monthly and can accommodate between 6 to 12 students. If SJA does not have at least 6 student you will be contacted so that alternate arrangements can be made. SJA offer every one of our courses for private instruction as well. These courses are for 1 or 2 people at an additional charge.
Courses Offered
Infant CPR for New Parents – $115 (Not Offered at this time.)
First Wednesday of Every Month 6:00 PM -9:00 PM
Designed for first time parents and family. Includes infant CPR, Choking, Medical Conditions specific to infants and a presentation on keeping your baby and home safe.
Child and Infant CPR for Nanny, Babysitters and Parents –$125 (Not Offered at this time.)
First Wednesday of Every Month 6:00 PM to 9:00 PM
Designed for childcare employees and babysitters as well as parents with two or more young children. In­cludes Emergency Scene Management, Child CPR/AED/ Choking, Infant CPR/Choking, Child and Infant Related Medical Conditions, Safety and Preparation Advice to parents and babysitters.
Adult, Child and Infant CPR/AED -$135
Third and Fouth Wednesday Every Other Month- $135 (Those needing only Adult CPR and AED will do Third Wednesday Only.)
Standard Level C CPR/AED.Includes Emergency Scene Management, Adult CPR/AED /Choking, Child CPR/AED choking, and Infant CPR/Choking.
Health Care Provider CPR/ AED -$145 (Not Offered at this time.)
Last Saturday of Every Month, 9:00 AM to 1:00 PM
Required training for all Certified health Care Employ­ ees and staff. Includes one and two person CPR/AED for Adult, Child and Infant
Emergency First Aid and Adult CPR/ AED -$165
Third and Fouth Wednesday Every Other Month- $165
Community level First Aid and Adult CPR. Includes Emergency Scene Management, Adult CPR/AED / Choking, Shock, Medical Conditions, Severe Bleeding, Bone and Joint injuries
SJA Members:
Emergency Medical Responders (EMR)
Jan. 24th to Apr. 27th. Tues. and Thurs. 6:00 PM – 9:00 PM
Volunteers of St John Ambulance are offered the following advanced level training course which includes:
Standard First Aid
Oxygen Administration
Patient Immobilization and Spinal Boards
And more
Medical Conditions:
The courses available at St. John Ambulance are physically challenging. Participants who have had recent elbow, knee, hip, heart, lung, or back surgery or other issues such as severe arthritis, emphasyma, or you have breathing difficulties please check with your doctor before registering for a course.
Attendance and Payment Policy:
Due to class size it is important to attend scheduled training sessions on time. If a participant schedules a course and does not attend, this limits another person the opportunity to attend the course. Therefore, participants who do not attend their scheduled classes will forfeit the course fees.
Course fees are non-refundable and must be paid 2 business days prior start of class. If a participant is unable to attend their scheduled course, they can call or email the training department to reschedule their course, which should be done no later than 2 business days prior to the original course date.
Late Arrivals:
Once the class is in session, participants will be asked to reschedule at the discretion of the instructor.
All Classes start at 6pm and are held at the St. John Ambulance Bermuda Training Centre located at 21 Point Finger Road, Paget.
All classes have a CPR component and all CPR classes include the AED.
All students will receive an confirmation email prior to the start of class.
Should you have any questions please contact training@sjabermuda.org
To Register for Classes Click Here:
Health Fairs:
Through invitations from various organizations, St. John Ambulance participates in health fairs, through schools, businesses, hotels, or in the community.
We come prepared with facts about our organization and the impact we have on the community. We encourage members of the public to join our organization by volunteering, taking courses, and working towards a safer and healthier Bermuda.
Lunch and Learns:
St. John Ambulance is prepared to send trained personal to your organization to talk about what we do in our community, and provide some basic information about how to respond to emergency prior to EMS arrival.